5 Key Stages of a Resident Acquisition Marketing and Leasing Funnel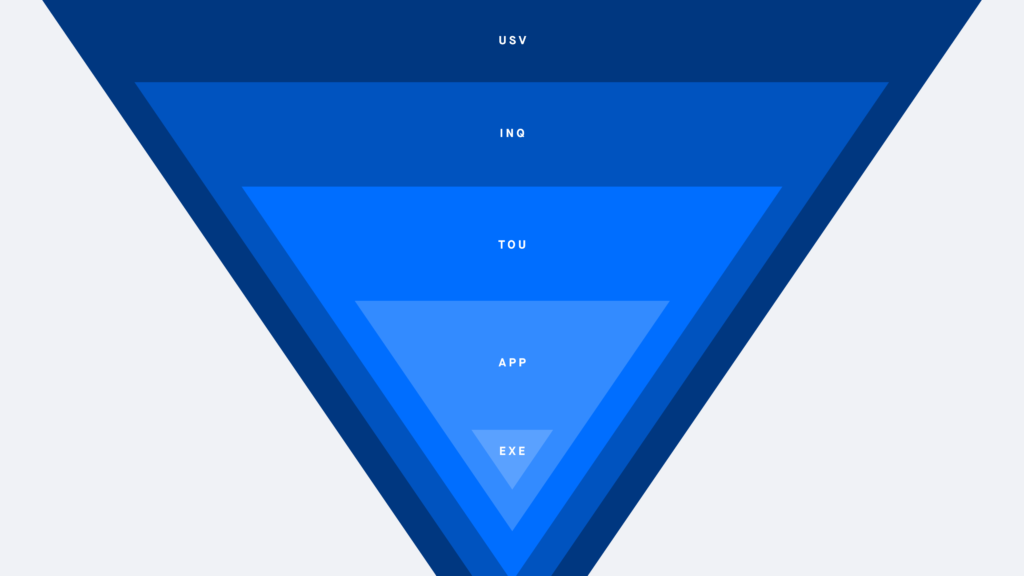 The best marketing investment models and plans are grounded in five key stages of a resident acquisition marketing and leasing funnel. For marketing managers, this represents a straightforward framework of essential elements in residents' end-to-end leasing journeys.
Almost all prospective residents begin their journey with an online search and/or a visit to a website, even if they find the apartment building walking by. For this reason, the top of the funnel begins with Unique Site Visitors (USVs) and concludes with lease execution—the final step before the resident moves into their new home.
Each stage in the funnel serves as part of the roadmap of a resident's leasing journey. These five key stages function as levers in your resident acquisition marketing and leasing funnel—each step acts as a gateway to the next until your properties' vacancies are filled. Let's take them one by one.
1. Unique Site Visitors (USV)
This first stage requires estimates for the number of unique website visitors needed over the modeled campaign period. As would be expected, the volume of visitors at the top of the funnel has a significant impact on the results lower down in the funnel (those who continue to remain interested in the development), which is second only to your conversion rate from USV to Inquiry (INQ). The target you choose from unique site visitors should be influenced by your total addressable market, as well as building inventory available, budget, and tactical mix.
This percentage of USV > INQ represents those unique site visitors who become inquiries. Remarkably's proprietary planning, measurement, and reporting framework benchmarks this at 1% at the minimum and 10% at the maximum for both mature and emerging markets, but a current average percentage is around 4%.
2. Inquiries (INQ)
Inquiries are a natural next stage in the funnel. These include calls, emails, walk-ins, SMS/text, online chat, and participants or people who schedule tours online. Basically, it's individuals who make contact with your development to find out more about the property or to schedule a tour. Less than 50% of inquiries typically lead to a tour, so realistic modeling and planning for this conversion area is key in order to hit your goals.
INQ > TOU are those prospects who ask to tour the property. Current benchmarks are 15% at the minimum with 47% at the maximum, though the average is 32%.
3. Tours (TOU)
Tours are next in line. Simply enough, this key stage is where prospective residents participate in an on-property tour led by a leasing agent. The goal with tours is to convert participants into applicants, so it is imperative to wow them with both the building and model units, as well as the services and amenities offered by your development.
TOU > APP are the percentage of those who take part in a tour and submit a lease application. Remarkably's current benchmark is 9% on the minimum end and 45% on the maximum end, while the average sits right at 30%.
4. Lease Applications (APP)
Lease applications include the number of people who submit applications for approval and execution. This stage can be executed online or in-person. Once you're this far down the funnel, the numbers shift and the chances of successful completion are much more in your favor—most of your prospects are highly invested by this stage.
APP > EXE is the percentage of applications that convert to executed leases. The minimum percentage we see is 60% with the maximum being 100%. The average tends towards 80%.
5. Lease Executions (EXE)
The final stage of your funnel is lease executions. The variable between applications and executions often comes from individuals who either cancel their applications or are denied due to income or credit. These typically remain marginal in comparison to those individuals who complete the process.
In multifamily marketing modeling and planning, it's good practice to create two to three models, each with differing volumes and conversion rates at each stage to see which model best fits your unique situation and meets your business goals. Remarkably data and insights illustrate the tradeoffs involved in your choices, including return on marketing investment. A robust resident acquisition and leasing funnel provides a higher degree of accuracy and confidence to make decisions about marketing investments, schedule, results, and return on marketing investment.
Ready to turn your unique site visitors into lease executions? Reach out to Remarkably for more info on our features, or request a demo to see the platform in action.