Features
Everything you need to monitor, measure, and report on your portfolio's funnel performance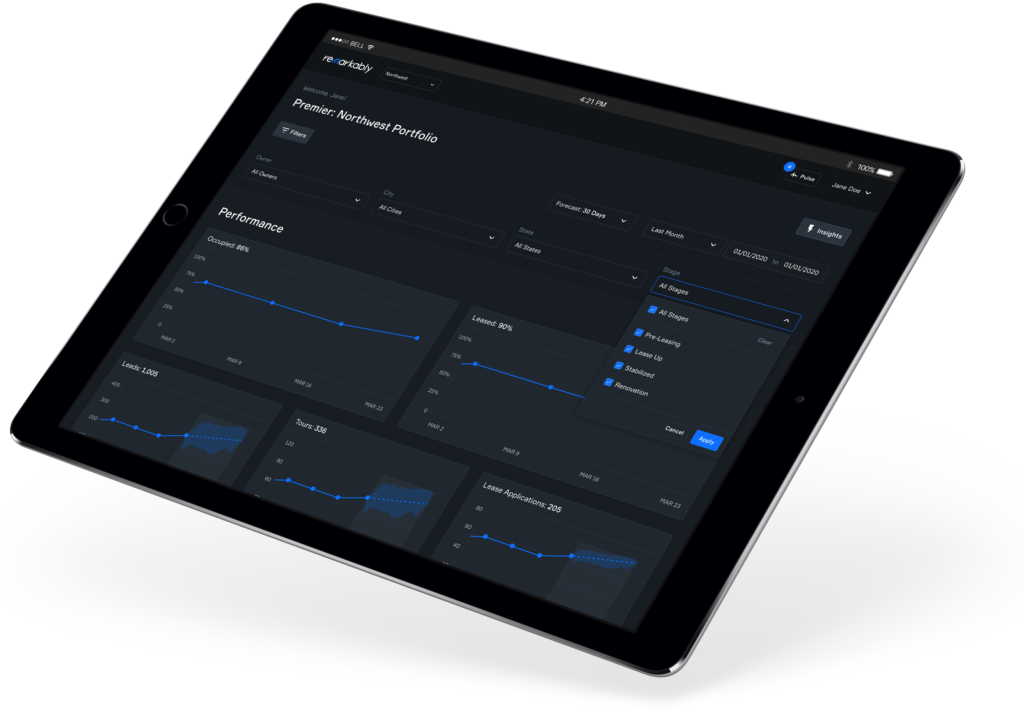 Favorite Remarkably Features
Stop manually compiling Yardi, RENTCafé, and Google Analytics data to build reports. Automate marketing, leasing, and retention reporting processes — all in the cloud.
Align each property around a set of meaningful KPIs that your team can agree and rely on. Compare benchmark KPIs with business objectives and ensure alignment across the portfolio.
Incorporate the power of predictive analytics into your daily marketing operations and decision-making process with forecasts that predict future behavior and offer powerful insights.
No more logging into dozens of separate reporting tools. Visualize comprehensive property and portfolio data, monitor marketing and leasing performance, and drill-down into critical KPIs for in-depth analysis.
Be alerted of issues before they become problems. Receive proactive alerts that identify potential property performance issues, and actionable insights that inform you how to fix them.
Merge and access your data with Remarkably as the hub between all your systems. Connect data from your PMS, CRM, GL, Google Analytics, spreadsheets, and more, with flexible ingestion methods.
Remarkably's Key Benefits
Increase Performance
Improve productivity and save time and money with automated data aggregation and analysis.
Drive Profitability
Hit and maintain occupancy and ROI goals with proactive insights that drive action.
Ensure Protection
Manage financial real estate risk with predictive analytics and advanced alerts
See Remarkably in Action
Connect your data, receive actionable insights and alerts, and address property performance issues before they become problems.