Top Multifamily Marketing and Leasing Data Risks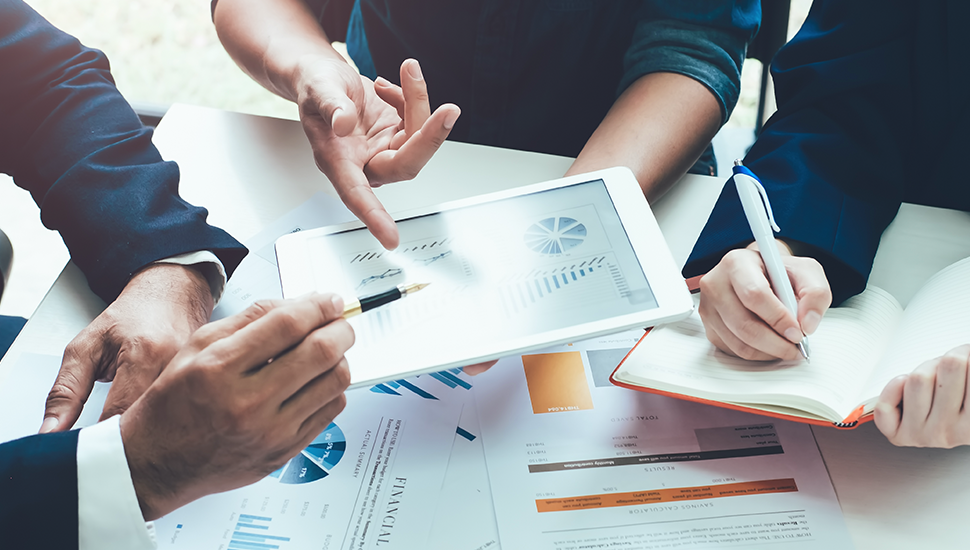 Mitigating data risks is a constant struggle and is critical for accurate performance monitoring in multifamily today. While working with our customers to optimize their marketing and leasing performance, we have seen 5 data management risks consistently emerge. Consequently, we thought we'd share why these risks are so common, and present ways to mitigate them to keep your multifamily investments on the right track.
The 5 Most Common Data Management Risks
1. Manual data entry errors.
The dreaded 'garbage in, garbage out' problem. On-site managers are often busy leasing homes to prospective residents, and data integrity can suffer as a result. It happens every day: a leasing office is short-staffed, a few walk-ins come in unexpectedly while the scheduled tour is about to kick off, the FedEx delivery driver shows up with a bunch of packages, and a resident wants to talk about when the leaking faucet in #203 is going to be fixed.
It's all happening at once, the leasing agent is stressed out, pressed for time, and trying to meet everyone's needs simultaneously. Sometimes, the lowest priority becomes accurately entering a prospective resident's information in a timely manner. For that leasing agent, in those moments, the benefits of data integrity feel distant and unimportant compared to keeping residents happy, or closing new leases. The result? Inaccurate, inconsistent, or delayed data entries that skew and devalue marketing and leasing data and insights.
2. PMS / CRM Data Inconsistencies
Even market-leading integrations don't always sync as designed when required processes aren't followed perfectly. Today's multifamily technology landscape is becoming increasingly fragmented as more and more marketing and leasing solution options become available, and "best in breed" tech stacks assembled across brands and products are becoming more and more common.
As this becomes increasingly true, PMSs are becoming less trusted as the source of truth for many modern marketing and leasing professionals who don't use full stack solutions. As a result, CRMs are often the most accurate sources of truth for leads and tours. If the PMS and CRM aren't part of a full-stack solution, the solution may require not only one but two integrations.
At Remarkably, we have customers who use fully-integrated CRM/PMS stacks, such as Yardi RentCafé <> Yardi Voyager and have no syncing issues, as expected. We also have prospects who are continually frustrated by data syncing issues between, for example, Knock or Anyone Home and Yardi Voyager, despite integrations in place, because leasing agents aren't following the precise – and sometimes frustratingly exact – steps and clicks required for the CRM data to sync with the PMS every night.
3. Data Mismatches
Especially in the cases of large portfolios with multiple owners and property management companies, data fields and formats often vary across systems that marketing and leasing reports are pulled from and need to be homogenized for useful data analysis.
For example, the way that Yardi measures and reports on notices to vacate (NTV) may be different from the way that Entrata reports it, or the way that a certain regional marketing and leasing team enters the data is different from another team. Perhaps one displays the NTV KPI as a single number, and the other displays NTVs by days' notice provided (e.g. < 30 Days, > 30 Days). One team enters NTVs as weekly data, and another tracks NTVs cumulatively. We can all imagine the inherent challenges of taking these data points, and trying to standardize and consolidate them easily and quickly.
4. Manual Data Aggregation Burden
Copying, pasting, and combining data in documents, especially as a team with natural levels of turnover, can create new and sometimes hidden data errors or issues.
For example, anyone who has used Microsoft Excel or Google Sheets for complex data management projects knows how easy it is to accidentally paste over existing data, accept incorrect formula fixes, or mistakenly adjust formulas—with one wrong keystroke. I can think of many times I have personally forgotten to drag and extend a selection box to include select rows I wanted as inputs into a sum I relied on for budgeting or tracking purposes, with disastrous results.
I can also think of many times we've audited customers' spreadsheets and discovered formula errors that had embedded multiplication or division problems, which then impacted their actuals and projections for months and even years. We're all human, and we all make mistakes. Especially when combining data in spreadsheets.
5. Spreadsheet Management Issues
Shared, stored documents pose quality control, version control, and even data loss challenges over time. We have all experienced spreadsheet management tragedies including teammates adding incorrect data, or saving over our data, resulting in lost time and rushed rework. Perhaps worse still, we have probably all experienced documents becoming corrupt or lost, with no backup. Document-based data management is high-risk in almost every way, yet most of us continue to rely on it without a better solution in place.
---
How to Mitigate Risks in 5 Key Areas
Below are some ideas and thoughts on how to mitigate risk in these top 5 areas. These ideas stem from discussions with our prospects and customers about what's worked for them, and why.
1. Automation, Forced Fields, Training, and Anomaly Alerts
There are several great leasing automation solutions available to owner-operators and property management companies and their leasing agents. CRMs such as Knock, LeaseHawk, and Funnel automate many manual data entry activities, and force data entry choices and fields that eliminate the need for paper-based documentation, excessive agent typing, and inconsistent free text data with typos that's difficult to aggregate and analyze.
That said, even the greatest solution isn't useful unless leasing agents understand the value of data and the importance of accurate data entry. Ongoing education and sharing the benefits of good data can go a long way toward ensuring data integrity. Lastly, solutions that flag data anomalies, via analyst QA in-house or a platform like Remarkably, will spot data integrity issues that enable users to find and fix data entry problems that skew and devalue their data sets.
2. Multiple Integrations and CRM User Training
At Remarkably, we're evaluating the need for supporting direct integrations with *both* PMSs and CRMs, despite customers' existing integrations between them.
For example, a CRM <> PMS integration is useful and powerful, but at a certain point, a CRM <> BI export and/or integration may also be required to avoid data loss or data degradation via PMS business rules. In the meantime, like with manual data entry, CRM users simply need additional training to harness the power of an existing, cross-stack integration.
For example, if three very specific actions are required, in a very specific sequence and time period, in order for a leasing agent to submit data to a PMS, part of the solution is identifying, documenting, and training the team on that process that enables required data integrity and analysis. We are in active research and development on this issue for our customers right now.
3. Data Mapping and Standardization
There are three key steps to mitigating data mismatch risks so you can avoid incorrect results that skew and devalue your internal analysis. At the most basic level, those steps are to: 1) Define, 2) Map, and 3) Standardize the data.
The first step may sound overly simplistic, but it's critical: define the data points, one at a time, that you require reporting on and analysis of. What is the official definition of each data point? Is each single data point a volume, percentage, or dollar figure? How should it be represented? Is it a numerical value, a text value, a decimal, is it rounded or not? Is it a sum, an average, or something else? What are its inputs, if any?
The second step is to map the data to a data model. This is essentially your 'legend', or 'key' – the way you want all of your data to be defined, transformed as required for standardization, and then consolidated.
The third step is to standardize your data – that is, to ensure that all data points are transformed to be apples-to-apples, so they can be combined and consolidated into aggregate totals.
4. Automated Data Aggregation
Automated data aggregation can take many forms. Some companies in our industry have built in-house analyst and developer teams who in turn have created proprietary data aggregation, management, and warehousing solutions. This can be a great solution for larger companies or more tech-forward organizations.
For example, some of the leading U.S. property management companies have invested significant resources into proprietary data aggregation and analytics solutions. Others have chosen to leverage third party, industry-agnostic solutions such as Funnel.io, Tableau, or DOMO, and customize them for their use, often requiring analyst and developer teams for customization and ongoing training and support. In these instances, data and insight provision becomes a shared service provided by analysts and developers.
Still others hire consultants to aggregate and warehouse their data, rather than manage that work internally. Other, often smaller to mid-size companies, have subscribed to industry-specific BI platforms like Remarkably or Real Page BI, to aggregate their data across owners and platforms without additional headcount or disruption of existing tech stacks. The benefit to all of these solutions is that they eliminate manual data aggregation and the places that manual data aggregation occurs, in spreadsheets.
5. Document Elimination and Ad-hoc Generation
The first step toward eliminating shared documents is eliminating manual data aggregation altogether, as described above. When data is automatically aggregated using software, for example, it can also populate reporting documents on-demand, for any date range, for any audience, in a variety of formats. No manual management required.
For example, at Remarkably, we aim to enable customers to export .csv files from our platform in the very near future. Documents can and should be outputs, not inputs, whenever possible. A .csv file can then be converted into a Microsoft Excel or Google Sheets file, reviewed, manipulated, and shared as needed—by owners, asset managers, and analysts, for example, on a specific and ad-hoc basis. Best of all, a document can then be manipulated and shared but its source of truth can remain untouched!
Leveraging the power of data, one cell at a time
We all know these are complex problems and there are no simple fixes – and that as an industry, we are all working together to make multifamily data management more effective and efficient. We still have a long way to go, but we're getting there. Year over year, we're seeing that collectively, we're all becoming smarter and better at managing our industry's data and we can more clearly envision a world where it's at our fingertips, all day, every day.
Good luck out there. If you have ideas about ways to better avoid marketing and leasing data risks, please feel free to share!
---
About Remarkably:
Remarkably creates multifamily intelligence software that liberates, visualizes, and interprets marketing, leasing, and retention data – across spreadsheets and third-party software solutions. From website visitors to net leases and beyond, Remarkably's cloud-based platform provides property management executives with portfolio monitoring and reporting intelligence that quickly identifies property performance issues, generates actionable insights, and issues useful, customizable alerts. Whether you're a team of 1 or 1000, managing 10 or 10,000 communities, Remarkably unites siloed data and delivers actionable insights and reports that help multifamily leaders make better data-driven decisions, improve productivity, minimize risk and cost, and increase revenue and NOI. Request a demo of Remarkably and let's see how it can bring value to your business.