Remarkably 2.0.0 – July Release Notes
I am tremendously excited to introduce the new Remarkably platform with exciting features that help property management executives achieve their portfolios' full potential with multifamily intelligence. Our exceptional Product and Engineering teams worked tirelessly through Q2 to deliver our new platform, and I couldn't be prouder of the result.
Remarkably 2.0.0 empowers Regional Property Management and Marketing teams to optimize the properties they oversee by providing insight into trends, current performance, and predicted outcomes. Tailored Sub-Portfolio views offer aggregated looks at performance across managers' portfolios, and enable powerful filtering functionality for specific analysis.
We're thrilled to share an overview of what is being released, which aims to improve the visibility into property and Sub-Portfolio performance with a focus on the key KPIs that matter most to busy multifamily industry professionals.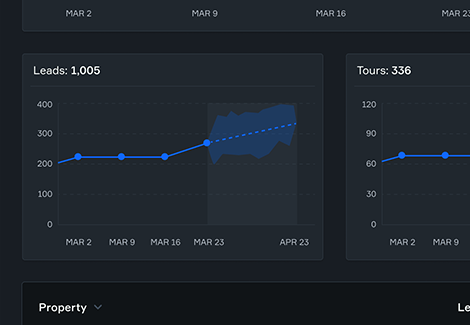 Forecast KPI Performance
Sub-Portfolio and Property marketing and leasing forecasts provide predictive analytics that enable you to plan for and mitigate risk before it occurs. With sufficient historical data, we can offer 30+ day forecasts powered by world-class machine learning.
Highly Customizable Alerts
Customizable threshold- and anomaly-based alerts available in-platform and via email, ensuring you're notified quickly about only the issues and risks that you care about most. If results are high, low, within-range, or unusual, we'll keep you on top of things.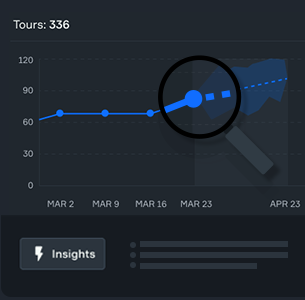 Historical Trend Insights
Concise, text-based insights accompany every chart in every view to guide and clarify your understanding of KPI performance over time. Never rely on analyst team support, Excel formulas, or eye-squinting visual interpretation again.
Seamless Data Integrations
Google Analytics and Yardi Voyager integrations enable daily data pulls that ensure your data is always current, accurate, and trustworthy. Say goodbye to manual report pulls, Excel spreadsheets, and data entry errors.
User-Friendly Dashboards
Simple and clear Sub-Portfolio and Property dashboard views make it fast and easy to analyze the properties and KPIs that need your attention. Filter your Sub-Portfolio, adjust your preferred date range, and view Property details with a single click.
---
Thank you!
We couldn't have delivered this release without our network of customers and supporters, an impressive array of industry experts and thought leaders. Thank you to the 180+ people who provided invaluable feedback on this release from late Q1 through Q2, including:
Donald D., Daryl S., Jessica W., Kara H., Kevin H., Kevin W., Laurel Z., Tracy M., Chris L., Chris H., Dawn R., Francisco Z., Joanna R., Josh W., Megan M., Alex C., Anna S., Anthony S., Blair M., Brennan F., Brian K., Claudia G., Greg L., Josh S., Karen K., Renee M., Warren D., Alex S., Andrew H., Ann R., Austin C., Christy H., David S., David Z., Elise R., Elisha W., Erika S., Erika W., Gwen P., Heather W., Holly G., Jackie J., Jamie P., Jannah H., Jessica M., Jon C., Jonathan T., Josh P., Julie K., Justin C., Katherine G., Kaytlyn S., Kegham B., Kelley S., Ken P., Kerry H., Lanette S., Lauran B., Marcin P., Mary B., Olga M., Paul E., Rachel S., Robb B., Sherilyn B., Tom G., and Xiyao Y.; and also:
Alex W., Alexis T., Allison W., Andrea R., Andrew D., April S., Becky R., Bethany B., Brad H., Brian K., Cait C., Carolyn C., Cassie Y., Cayla G., Christa C., Christian M., Christine L., Christine M., Courtney S., Daniel P., Daniel R., Danielle E., Danner H., Danny K., David M., Donal W., Donje P., Emily P., Eric S., Fernando V., Gina L., Haley B., Heidi K., Heidi T., Holli B., Jack S., Jake D., Jamie G., Jane A., Jared E., Jay R., Jeff L., Jeffrey K., Jennifer W., Jennifer C., Jennifer A., Jennifer H., Jeremy F., Jesse B., Jessica D., Jim W., Jodi B., Josh L., Josh P., Josh K., Josh L., Karen Z., Karolina S., Kathleen B., Kellie L-B., Kim M., Kirby D., Kurt B., Lauren A., Lauren M., Lee N., Loren A., Mae K., Marc K., Mary Rose P., Matt K., Matt C., Matthew K., Max Z., Mel B., Michael G., Michael W., Michelle H., Michelle A., Milos K., Molly S., Natalie C., Nicholas C., Nick A., Peter S., Pierre M., Rachel V., Rebekah C., Rick S., Rob B., Robin F., Robin H., Roman S., Ryan T., Sam R., Sandy C., Sarah K., Stacy B., Stephanie D., Steve L., Steve O., Sydney W., Tamara H., Tami S., Tammy K., Timothy S., Tom S., Val G., Valentin C., and Victoria K.
See Remarkably July: Version 2.0.0 Release Notes
---
About Remarkably:
Remarkably creates multifamily portfolio intelligence software that liberates, visualizes, and interprets marketing, leasing, and retention data – across spreadsheets and third-party software solutions. From website visitors to net leases and beyond, Remarkably's cloud-based platform provides property management executives with portfolio monitoring and reporting intelligence that quickly identifies property performance issues, generates actionable insights, and issues useful, customizable alerts. Whether you're a team of 1 or 1000, managing 10 or 10,000 communities, Remarkably unites siloed data and delivers actionable insights and reports that help multifamily leaders make better data-driven decisions, improve productivity, minimize risk and cost, and increase revenue and NOI.